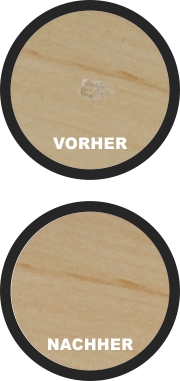 REPAIRS
Faster & cheaper
Scratches, dents, holes, burns and all other "beauty defects" on the surfaces of your home are a thing of the past. Because we offer you the professional furniture repair, parquet flooring, laminate flooring and worktops in the kitchen and stone slabs from a single source.
Did you know: In most cases it is much cheaper (about 90%) to treat the broken surface as a new floor (wood, parquet) or to renew the kitchen worktop. Our team has been dealing with the repair of surfaces for years - make use of this know-how and save time and money!
Send us a photo by email or call us on 01/665 02 99.
We advise you on the possibilities of repair. We then arrange an appointment so that a specialist of our team can carry out the repair.